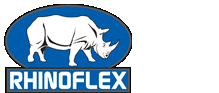 Manufactured from polypropylene fabrics and films in addition they have a weather proof abrasion resistant outer cover reinforced with galavanised internal and external wires.
Rhino flex can be manufactured in continuous lengths upto 20 Mtrs.
Download pdf
Road Tanker Equipment: Aluminium lugged BSP threaded adaptors
Stainless steel Elbow Gunmetal cap

Sizes 1" to 6"
Available in all stainless steel or all Gunmetal
Aluminium locking Part C camlock

Sizes 1" to 6"
Available in Stainless Steel, Gunmetal & Polypropylene
Gunmetal swivel lug female

Sizes 1" to 4 "
Also available in Stainless
Steel, Aluminium, & Polypropylene
Aluminium T.T.M.A Flange

Sizes 3" & 4"
Available in Stainless Steel and Carbon steel
.
Stainless steel A.S.A 150 R/F flange

Sizes 1" to 10"
Hexagon male

Stainless steel A.S.A 150 R/F flange
Sizes 1" to 10"